Areas
To absorb this increase in new residents and survive natural disasters and large-scale disruptions of the supply infrastructure without damage, the cities of the future must be resilient, i.e. adaptable and resistant. Moreover, current urban planning is increasingly oriented towards human needs and thus contributes to a higher quality of urban life. Moreover, everyday urban life is facilitated by networked solutions. Mobility solutions that penetrate urban space in all dimensions also make life in the city more efficient. The existing boundaries of physical space are also being extended by innovative concepts - for example into the underground.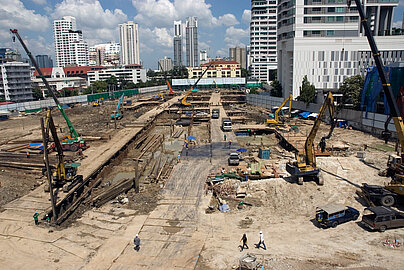 Geophysical services make a decisive contribution to minimise the risk of your site. A punctual planning comes above all.
arrow
Foundation pits, bridges, buildings, tunnels or the environment – Amberg GeoMonitoring offers you the highest measure of safety and economy thanks to first-class service and the utilisation of innovative technology.
arrow
Geodetic or geotechnical survey, preservation of evidence or other specialised survey applications, we offer the whole range of services from a single source.
arrow